Canpotex is a global leader in transportation logistics.
We move Canadian potash overseas with a safe, sophisticated, and reliable delivery system that includes dedicated potash railcars, specialized port terminal facilities, and a number of dedicated ocean vessels. This system allows Canpotex to deliver value to its customers and shareholders by responsibly exporting Canadian potash.
With a clear understanding of the unique properties of potash, Canpotex makes decisions every day that expertly moves Canada's potash. From potash-specific, custom-designed railcars to cascading chutes on our terminals' shiploaders that gently deposit potash into ocean vessels, we ensure that every aspect of our supply chain is enhanced to responsibly move potash from mine site to overseas disport, while maintaining the integrity and quality of the product. We invest in modern and innovative infrastructure to ensure we are able to supply the sales that we have promised. We optimize our efficiency by trouble-shooting and responding to problems effectively - and we demand the same of our suppliers.
Inland Transportation
The majority of Canpotex's potash moves in unit trains west, from mine sites in Saskatchewan through to port facilities in Vancouver, British Columbia and Portland, Oregon, a journey of approximately 2,000 kilometres. A smaller portion of our potash is transported east to Thunder Bay, Ontario for shipment through the Great Lakes and the St. Lawrence Seaway or to the terminal facility in Saint John, New Brunswick, a 4,300 kilometre trip.
Each year, our Canpotex trains make approximately 700 trips to these ports, carrying approximately 13 million tonnes of potash through Canada's rugged landscape and extreme weather conditions. Our longest trains are up to 205 railcars in length and can carry approximately 21,200 tonnes of potash.
Canpotex operates unique and custom railcars. Originally we used grain railcars to transport potash; however, in 1999 we worked with National Steel Car in Hamilton, Ontario to build a railcar that was specifically designed to manage the dense properties of potash. As a result, a new potash-specific railcar was developed which has enabled us to double the amount of potash transported by rail without adding any extra train trips on Canadian rail lines.
Since this innovative improvement to our inland operations, we have commissioned over 8,000 railcars with National Steel Car, investing hundreds of millions of dollars into the Canadian economy.
Canpotex Railcar Maintenance Facility
Canpotex places significant value on having safe and reliable railcar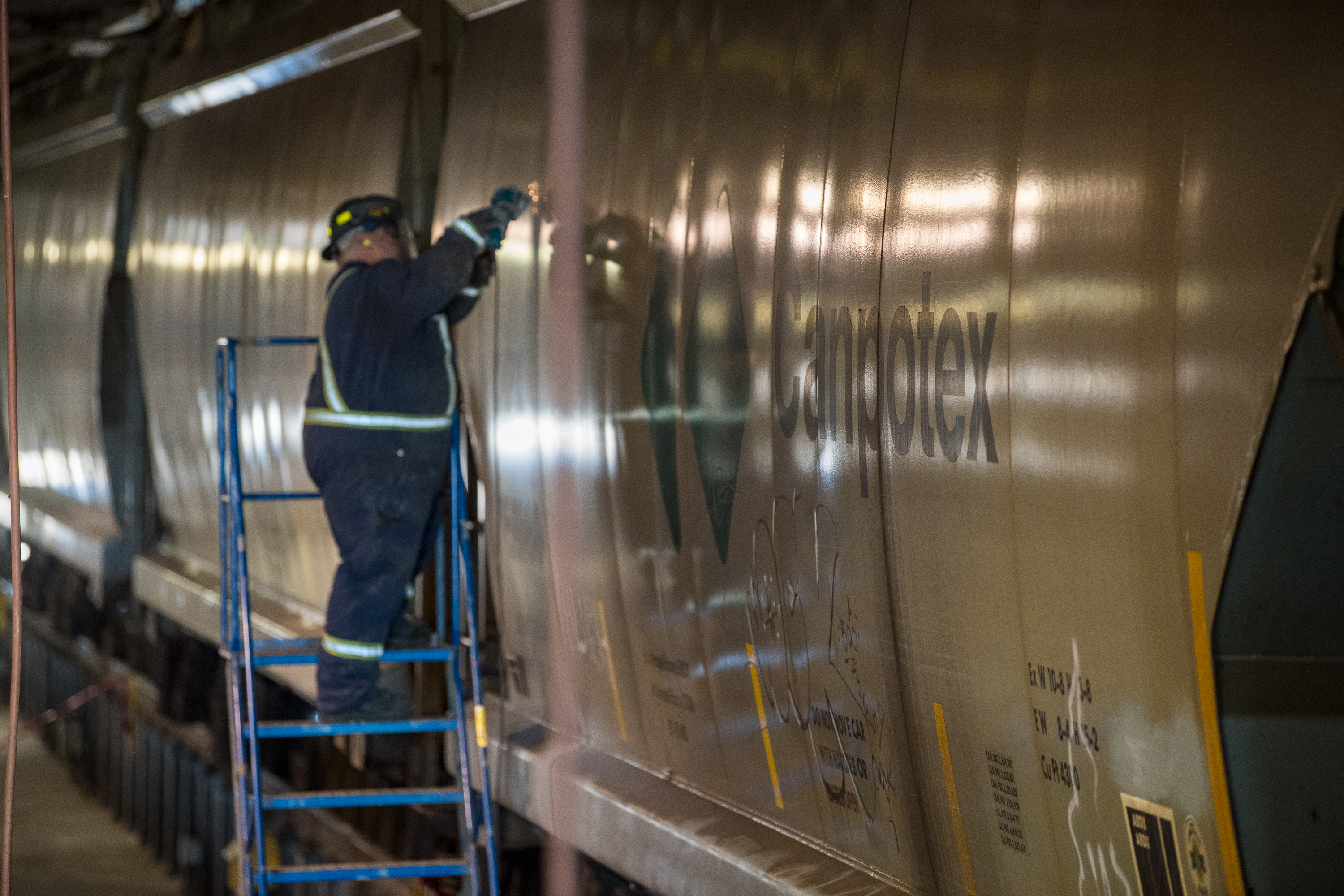 s. In 2012, Canpotex's newly built Railcar Maintenance Facility became operational and allowed us to responsibly maintain our own railcars. This facility enables us to provide all-weather inspection, repair and maintenance, automated washing, wheel repair and replacement, and on-site storage for our potash-specific railcars.  
The Railcar Maintenance Facility enhances our rail-delivery system through increased performance, standardized maintenance schedules, and increased operational efficiencies, ensuring that we provide timely delivery to our customers in peak periods of demand.
The Railcar Maintenance Facility is located 12 kilometres southwest of Lanigan, Saskatchewan and provides jobs for Saskatchewan residents through our third-party service providers, Procor and Railserve.
Terminals
Canpotex has access to four marine terminals that transfer our potash from railcars into ocean vessels. At these terminals, Canpotex has access to several storage warehouses that can hold varying amounts and grades of potash for when we need it. These modern warehouses allow Canpotex to maintain a good variety of potash inventory at port, to ensure timely delivery to customers in peak periods of demand.
Canpotex ensures that potash cargoes are efficiently handled and loaded through daily communications with other Canpotex offices, railways, terminals, and the crews piloting our ocean vessels. A highly-skilled operations team, located in Canpotex's Saskatoon and Singapore offices, manages every part of the journey our potash takes from mine site to the terminals and at the final discharging port.
Each one of our terminals is unique and provides modern and efficient storage and handling facilities for potash deliveries to offshore markets.
Vancouver, British Columbia
Neptune Bulk Terminals (Canada) Ltd. (Neptune) is a joint venture of bulk commodity handlers, including Canpotex Bulk Terminals Limited – a company affiliate. Since 1979, Neptune has been shipping potash and fertilizers through the Port of Vancouver. Canpotex ships the majority of its potash through this facility.
Other Resources
For more information on Neptune Bulk Terminals or the Port of Vancouver, please visit the links below:
Portland, Oregon
Portland Bulk Terminals, L.L.C. (Portland Bulk Terminals) is wholly owned by Canpotex and operated by SSA Pacific, Inc. Operating since 1997, this terminal is a potash bulk-handling facility located on the Columbia River system in Portland, Oregon. Portland Terminals facilitates efficient handling of specialty potash products (particularly white potash) and provides a load port alternative for Canpotex potash shipments worldwide.
In 2018, Canpotex completed a terminal expansion of Portland Bulk Terminals. The $150 million project included a new shiploader, a newly constructed warehouse facility, and an upgraded vessel loading system to transfer potash directly from trains and through the warehouse system onto vessels more efficiently. The improvements increased overall terminal capacity and improved efficiencies, while enhancing health and safety and reducing its environmental impact.
Other Resources
For more information on SSA Marine and the Port of Portland, please visit the links below:
Saint John, New Brunswick
The Saint John Terminal is owned by PotashCorp and is operated and managed by Canpotex Terminals Limited. The terminal, located at Port Saint John in New Brunswick, is a dry bulk handling facility with up to approximately 2 million tonnes of annual throughput capacity and two storage sheds with approximately 210,000 tonnes of combined storage capacity. Having an east coast port option gives Canpotex better access to the eastern coasts of South and Central America, and to West Africa and Europe.
Other Resources
For more information on Furncan Marine and Port Saint John, please visit the links below:
Thunder Bay, Ontario
Canpotex has been shipping Saskatchewan potash through Thunder Bay, Ontario, Canada via the St. Lawrence Seaway since 1986. Thunder Bay Terminals, located at the Port of Thunder Bay, has a separate and dedicated dry-bulk handling system, primarily used for potash. Trains of up to 120 railcars can be handled via a dedicated loop track, with the capacity to stage up to 400 railcars on site. This eastern port option gives Canpotex better access to its customers in Europe.
Other Resources
For more information on the Port of Thunder Bay, please visit the link below:
Ocean Transportation
Canpotex has many options for how it delivers its potash across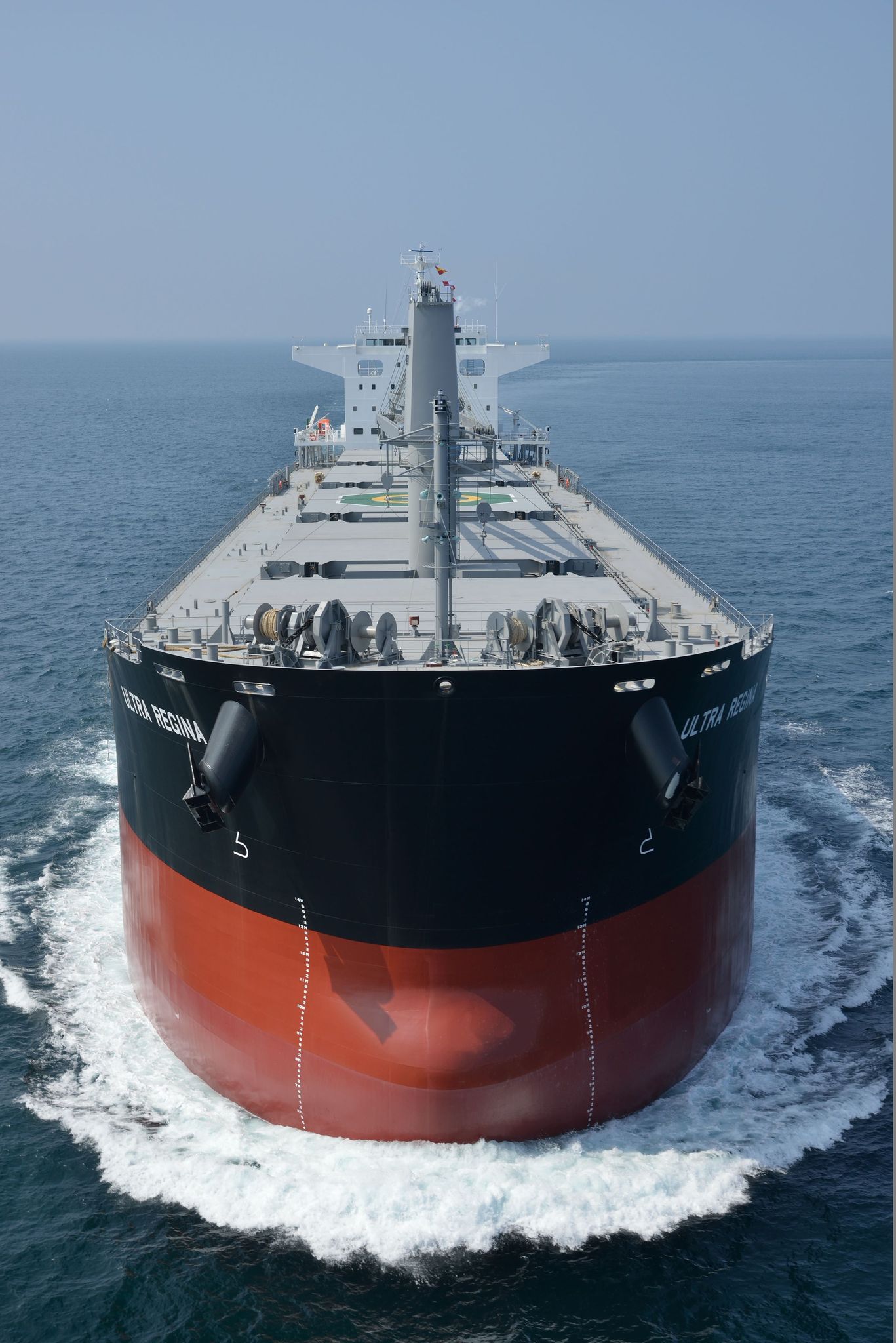 the oceans. With regular access to four different marine terminals, our vessels can load potash on either North America's Pacific or Atlantic coasts. This allows our team of ocean vessel managers the ability to plan the best available routes for our vessels.    
Canpotex's in-house ocean transportation team works from our Saskatoon and Singapore offices. This team of highly-trained experts manages approximately 60 vessels each day. Through an exclusive chartering and brokerage network, we manage time-charter and voyage-charter vessels, freight contracts and shipments of complimentary cargoes. Each year, Canpotex operates approximately 305 vessel voyages, making over 600 port calls to over 100 ports worldwide.
Approximately 95% of our potash sales are made on a Cost and Freight basis (CFR), where Canpotex charters and manages the vessel carrying customer cargo through to the discharge port in the destination country. CFR shipments allow Canpotex to maximize efficiency and minimize costs (for us and our customers) by optimizing scheduling and using larger vessels to combine shipments.