Canpotex is one of the world's largest suppliers of potash overseas.
On behalf of our Shareholders, Mosaic and Nutrien, we market and deliver Canadian potash, a valuable fertilizer nutrient, to millions of fields and farmers, helping the world grow more food.  
Our Vision 
We will be a vital link in the pursuit of global food security, inspiring farmers in our export markets to grow and help nourish the world. 
Our Mission 
Our bold and innovative team delivers value by responsibly exporting Canadian Potash. 
Our Values
Integrity 
We conduct our business with the highest level of integrity, ethics, and respect to our employees, customers, stakeholders, and our communities.

People
We value the unique and diverse talents of our employees, and are committed to providing them with opportunities for growth and success in a trusted team environment.

Safety and Environment
We are committed to people's safety and the protection of the environment.

Value Creation
We are reliable and we innovate efficiency in a competitive export potash market, servicing our customers and generating outstanding value for our shareholders.
 
Shareholders 
Canpotex Limited (Canpotex) is a joint venture that is wholly owned by two Saskatchewan potash producers—Mosaic and Nutrien—with each shareholder having an equal ownership in the company. 
We create value for our shareholders and customers by leveraging more than 50 years of expertise in global potash sales and transportation. Pooling our resources to efficiently supply world markets with high quality potash for food production. 
Canpotex manages and operates a fleet of customized railcars, port terminal facilities, ocean vessels, and more—serving these Saskatchewan potash producers in providing this important fertilizer nutrient to food producers, farms and communities around the world. 
Mosaic Canada Crop Nutrition, LP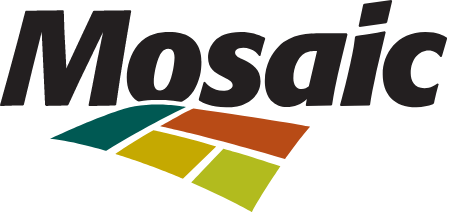 mosaicincanada.com 
* A subsidiary of The Mosaic Company
Nutrien Ltd.

www.nutrien.com
Potash Corporation of Saskatchewan Inc.
*A subsidiary of Nutrien Ltd.
Our Offices
Canpotex has four offices internationally, allowing our employees to remain connected to our customers, suppliers, and other stakeholders at all times. Canpotex's head office is in Saskatoon, Saskatchewan, Canada, at the heart of where the potash journey begins.
Our São Paulo, Singapore, and Shanghai offices keep us close to our customers, making it easier for our employees to work directly with distributors and farmers, who use our potash to grow their important crops.
Canpotex Limited, Headquarters
Saskatoon, Canada
Suite 700, 409 – Third Avenue South
Saskatoon, Saskatchewan
Canada S7K 5R5
T: +1-306-931-2200
F: +1-306-653-5505

Canpotex Brazil Office
São Paulo, Brazil
Canpotex Brasil Escritório de Representação Ltda.
Avenida das Nações Unidas nº 14.171, 8º andar, Cj 801
Rochaverá Corporate Towers – Torre Crystal
São Paulo - SP - CEP 04794-000 – Brasil
T: +55 11 4765-8310

Canpotex Singapore Office
Singapore
Canpotex International Pte. Limited
38 Beach Road
#17-13 South Beach Tower
Singapore 189767
T: +65-6733-0221
F: +65-6733-0178

Canpotex Shanghai Office
Shanghai, China
Canpotex Trading (Shanghai) Co. Limited
1808 Azia Centre
1233 Lujiazui Ring Road
Pudong, Shanghai  200120
China
T: +86-21-6020-0750
F: +86-21-6020-0751