news
Today Premier Brad Wall witnessed the signing of two new marketing agreements that will see millions of tonnes of Saskatchewan potash shipped to India over the next few years.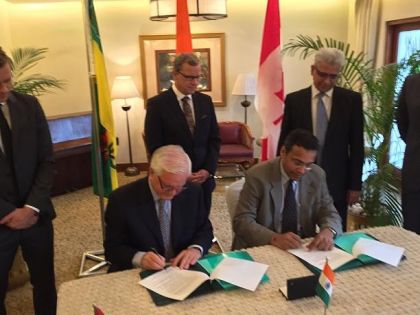 Canpotex, the off-shore marketing arm of Saskatchewan potash producers, signed separate sales agreements with Coromandel International Ltd. (CIL) and Tata Chemicals Limited (TCL).  The two companies, along with Indian Potash Limited (IPL), were also recognized by Canpotex for their long-time patronage.
In addition, Canpotex signed an Enhanced Market Development Agreement with each of the three companies to promote the use of potash in India.
Canpotex supplies about 25 per cent of the potash used in India, which is the company's fourth largest offshore market.
Wall is in India on a week-long trade mission.
"With a growing economy and large population, India is an important market for our potash producers and we're thankful for these purchase agreements," Wall said.  "We have a strong commercial relationship that should only get stronger as Indian farmers begin to see the value of potash in a balanced fertilizer application.  Potash has helped Saskatchewan farmers become among the most productive farmers in the world and it can do the same for Indian farmers."
"Canpotex is honoured to have served CIL, IPL and TCL for many years and grateful our relationship will continue into the future," Canpotex President and CEO Steve Dechka said.  "We look forward to working with our partners to help Indian farmers improve their productivity and feed this dynamic, growing country."
Wall, Dechka and Dr. Sanjeev Balyan, Minister of State for Agriculture and Food Processing Industries, were among those invited by IPL to the opening of a soil testing laboratory at Muzaffarnagar, located about 130 kilometres east of New Delhi.  The laboratory will provide free services to local farmers.
The delegation toured a sugarcane demonstration plot that serves as a showcase of scientific farming methods, including the use of potash as a fertilizer.
The Premier also delivered a keynote address to more than 600 farmers, in which he touted the benefits of potash.
At separate ceremonies attended by Wall, CIL and IPL were presented with awards for purchasing three million tonnes of Saskatchewan potash, while TCL was recognized for buying four million tonnes.
Also on Thursday, Canpotex hosted a dinner attended by the Saskatchewan delegation, Government of India representatives and industry officials.
"I'm grateful Canpotex provided an opportunity for our government to say thank you to our customers and discuss how we might work together to boost agricultural productivity in India," Wall said.
The trade mission, which runs November 15-23, is intended to promote Saskatchewan's strengths in energy, agriculture and innovation as well as to highlight investment opportunities.
On Friday, Wall was scheduled to meet with the Chief Minister of the State of Punjab and the Chief Minister of the State of Haryana in Chandigar.  On Saturday, the Premier will speak at the opening ceremonies of Agro Tech 2014 in Chandigar, and the opening of the Canadian Pavilion at the agricultural trade show.
Wall has also had meetings with government officials and potential investors in Mumbai, Ahmedabad, the largest city in the state of Gujarat, and New Delhi.  He delivered keynote speeches at a dinner in Mumbai and a luncheon in Ahmedabad.
Saskatchewan is the largest exporter to India among the provinces, shipping about $1.0 billion worth of goods in 2013.  The province's exports to India have increased 67 per cent since 2007.  Saskatchewan imports from India have climbed by 244 per cent in the same period.
-30-
For more information, contact:
Kathy Young
Executive Council
Regina
Phone: 306-787-0425
Email: kathy.young@gov.sk.ca
Cell: 306-526-8927