in the community
The City of Saskatoon (City) is pleased to announce PotashCorp Playland at Kinsmen Park will open on Wednesday, August 5, 2015, at 10 a.m.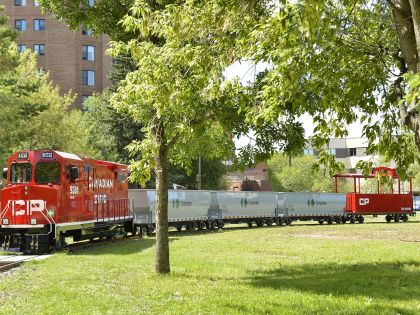 "We are very excited that families are now having fun at the brand new PotashCorp Playland at Kinsmen Park," says Jochen Tilk, President and Chief Executive Officer of PotashCorp.  "We are so happy to see the wonderful new vision for the park brought to life and we're sure the community will enjoy it for many years to come."
PotashCorp provided $7.5 million of the total cost of $9.5 million to develop PotashCorp Playland, which includes a Ferris wheel, carousel, and train ride, along with a variety of play areas. The new train, sponsored by Canpotex Limited and Canadian Pacific, is one of the most anticipated new attractions.
"This is a significant milestone - Phase One of the Kinsmen Park Master Plan is now complete," says the City's Recreation and Sport Director, Cary Humphrey. "Thanks to our sponsors, PotashCorp, Canpotex, and Canadian Pacific; this facility is a first-class attraction that will draw visitors from near and far."